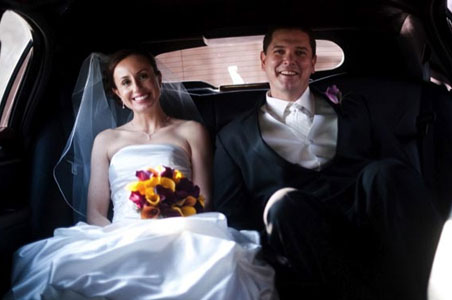 There is undoubtedly a long list of essential things to prepare for your wedding: food, flowers, dresses, venue, and music. And then there's transportation—because if there's one thing we know about weddings, they should be chic and more memorable when your vehicle is awesomely remarkable. Vineyard Coast Transportation, the best limousine company in Temecula, has a fleet of limousines you can choose from to make your wedding day extra special with our luxurious wedding limo. 
Here are some important reasons why renting a limo for your wedding is always a good idea. For one, it's an excellent way for you and people to distinguish your wedding from others. 
Comfortable Ride for Your Very Special Day
You will indeed have a comfy ride in a limo than in your usual daily transportation. If you decide to share that limousine moment with your friends, it would be the best ride for you on your wedding day. You and your guests may enjoy yourselves in a limousine because they are designed to be luxurious and comfortable. The long-stretched vehicle has ample room for everyone, so you won't have to worry about feeling crowded or uncomfortable. 
Additionally, our limos provide many conveniences like entertainment systems and climate control. You can enjoy the luxury of a limo while your favorite music is played in transit from your home or hotel to the church or the wedding venue. Just thinking about sitting comfortably and excitedly anticipating the biggest day of your life is awesomely beautiful. You can only have that wonderful experience of anticipating your biggest event if you're in a fantastic limousine enjoying your time. 
You and your Partner can have a Lovely time in our wedding limo
Nothing is more surreal than spending that special day with your beloved in a cozy wedding limousine. Can you imagine yourself or your partner driving your car to your wedding? Can you imagine worrying about parking on your special day? Or being stuck in traffic inside your boring transport? It is your special day! So save yourself from all these worries and settle comfortably with your partner inside a luxurious limousine. 
A limousine service can also take care of your whole family's transportation needs in one easy step instead of being separated by the stress of driving. Because wedding limousines are available in various types and sizes, You can decide which one best fits your needs allowing you to relax and enjoy the ride.
You will enjoy Professional Treatment
You are more likely to show up on schedule because a limousine service is a professional service. Your limousine will be right at your doorstep when you step in with your best outfit on. Everything will be arranged so you won't have to worry about anything. Your limousine service will be glitch-free for your special day. 
After all, who wouldn't want to spend a day living like a celebrity? If you want to make your guests feel like they're in the VIP section of an exclusive club, consider renting a limo for your wedding. They will not only feel special, but they will also have something to talk about when they return home!
The wedding Limousine has a Professional Chauffeur
When you hire a limousine service for your wedding day, driving will not be a concern for you. Your limo chauffeur is a qualified professional who will get you to your destination promptly and safely. As a result, you may relax and have fun on your big day without worrying about anything else. 
Professional chauffeurs have expectedly received safety and customer service training to guarantee everyone's enjoyment while riding in a limo. In addition, they are courteous and superbly polite, ensuring you enjoy the best day of your life.
You can be confident of your safety and security
Who would think about safety and security when everyone's excited about the special day? Your limousine service would be doing that for you. So you can be confident that you and your guests will be safe.  
Numerous security features, such as bulletproof glass and doors made of reinforced steel, are built into limos. This implies that you will be safe from any threats or hazards on the road. In addition, the limo has a reinforced steel frame that can withstand collisions and prevent passengers from being injured in an accident. It also has seat belts that you can use to keep yourself secure.  
GPS tracking devices and cameras are all used to ensure safety. Limos have a long history of being safe vehicles, which is why many people choose them over other types of transportation when traveling. So you can travel in style, at the same time, safely and securely. 
You can Save Money on a Wedding Limo Transportation 
You can travel in style and also save money on transportation by renting a limo instead of driving yourself to your destination. A limo will cost less than going by yourself because you won't have to pay for gas or parking, which can add up quickly when traveling long distances.  
A limousine allows you to travel in style with others, which is more enjoyable than driving alone in your vehicle. With your friends and family in a long-stretched limousine, you could surely save up on everything and spend time together in a luxurious car, making your special day more fun. 
With Vineyard Coast Transportation, the best limo company in Temecula, we guarantee that you pay less for a premium quality wedding limousine service. Contact Vineyard Coast Transportation now to know more!